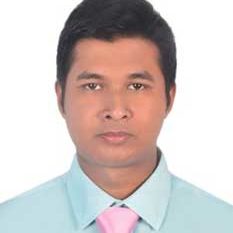 Mr.Md.Abdul Basit
Assistant Professor
M.Sc in Civil & Structural Engineering (BUET)
B.Sc in Civil Engineering (KUET)
Room # 811 Ext # 841
E-mail: abdul.basit@iubat.edu
Md. Abdul Basit is working as a faculty in the Department of Civil Engineering at IUBAT – International University of Business Agricultural and Technology, Dhaka, Bangladesh. Earlier he worked as lecturer in same university. He has completed his Bachelor of Science (B.Sc.) in Civil Engineering in the year of 2016 from Khulna University of Engineering and Technology (KUET) and Master of Science (M.Sc.) in Civil & Structural Engineering in Bangladesh University of Engineering and Technology (BUET) in the year of 2021.
At the same time, he worked as a Research Assistant (RA) with his supervisor for 1 year. He has over 5 years overall teaching experience in several universities. He has three publications, two in conference and other one in a journal. During his research work he has gained experience in analyzing and modelling in Finite Element Modelling (FEM) Software ABAQUS and learned programming language python also. preparation of feasibility study report etc. His fields of research interests are Structural Engineering, Finite Element Modelling, Buckling behaviour analysis etc.
M.Sc in Civil & Structural Engineering (BUET)
B.Sc in Civil Engineering (KUET)
CEN 207 Engineering Measurement and Surveying
CEN 257 Mechanics of Solids
CEN 258 Mechanics of Solids Lab
CEN 309 Structural Analysis and Design-I
CEN 160 Civil Engineering Drawing I
Md. Nayem Hossain, Md. Abdul BasitandNusrathTabassum"An overview of financial cooperation for enhancing research in developing countries in post-COVID-19 crisis" South and Southeast Asian UniversityNetwork (S&SE ASIAN UN) Webinar "Post-COVID Regional Cooperation: New Opportunities and New Actions" October 21-22, 2020
M. T. E. Amin, M. A. Basit, and M. M. Islam, "A combined strength and cost analysis of concrete by using four different matrixes of materials," IUBAT Rev. 2, vol. 2, no. 1, pp. 1–11, 2019.
Imtiar Jalal Niloy, Dr. Md. Raquibul Hossain and Md. Abdul Basit "Parametric Study of Thermal Behaviour of Reinforced Concrete Columns in Fire" International Conference on Structural Engineering Research (ICSER- 2019) 19-23 January 201
Academic Workshops:
Effective Teaching Learning IQAC, International University of Business Agricultural and Technology - 23rd February 2019 to 09th March 2019
Outcome-Based Education & Curriculum Mappings IQAC, Dhaka International University - 02-04 January 2018
QA workshop on Teaching-Learning Methods &Curriculum contents for Newly appointed teachers IQAC, Dhaka International University - 27th November 2017
Effective Teaching European University of Bangladesh (EUB) - 11th May 2017
Honors and Awards:
 Dean's Award 2014 and 2015 [Khulna University of Engineering &Technology]

 Academic Scholarship of all four academic years [Khulna University of Engineering & Technology] (Session:2011-12 to 2014-2015) 

Certificate of Excellence in Test Examination of H.S.C -2011 (B.A.F Shaheen School and College, Dhaka)