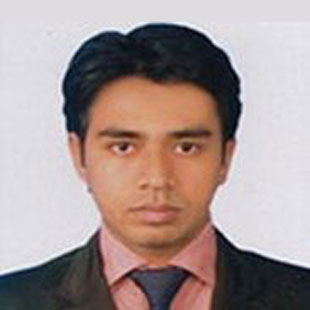 Mohammad Osman Ghone 
Senior Lecturer
MSc in Civil Engineering, Cont'd (CSU – China)
BSc in Civil Engineering (IUBAT)
Room # 923 Ext #
E-mail: osman.ghone@iubat.edu
With the goal of an academician, I have started my teaching career in the university, IUBAT, as a faculty in the department of civil engineering, January 2019; and I have completed my Bachelor of Science in Civil Engineering in December 2013. Around 2 years of academic experience makes me comfortable within all teaching environments and able to demonstrate excellent teaching that fosters students' skills to improve their caliber. I also worked with several Civil Engineering companies such as AUTOMAN Steel Structure Ltd., I-MART Steel Structure Ltd., MARN SteelStructure Ltd., and especially Baizid Steel Industries Limited.
Masters of Science in Civil Engineering (MSCE) - Continue
CSU- Central South University(China)
Bachelor of Science in Civil Engineering (BSCE) - 2010-2013
IUBAT- International University of Business Agriculture and Technology CGPA-3.80 out of 4
Higher Secondary School Certificate (HSC) - 2008-2009
Government Tongi College
CGPA-3.50 out of 5
Secondary School Certificate (SSC) - 2006-2007
Quadria Taiyabia Mohammadpur Dhaka
CGPA-5.00 out of 5
CEN 487: Design of Steel Structure
CEN 231: Engineering Mechanics
CEN 216: Quantity Survey
Bhowmik, S.K., Islam, M.M., Khan, A. and Ghone, M.O. (2019). "Mode Shape and Natural Frequency Identification of a Prestressed Box Girder Bridge in Nonthaburi, Bangkok" IUBAT Review 2 (1): 12-24. iubat.edu/journal
Workshop:
Structural Steel for Civil Engineering Application, 2013 at Department of MME (BUET) Bangladesh University of Engineering Technology, Dhaka, Bangladesh.
Webinar:
GIS for Civil Engineering Applications with SuperMap
Training:
ETABS 2017 (Advanced level, Structure modeling, and analysis)
STAAD Pro. (Structure modeling and analysis)
ANSYS (Structure analysis) 
Awards:
Academic excellence certificate from IUBAT, Summer-2012, Fall-2012, Spring-2013
Professional services:
Teaching Assistants (TA):  Department of Civil Engineering (IUBAT)
Educational Secretary: Department of Civil Engineering (IUBAT)