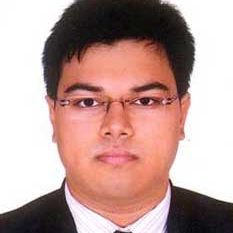 Mr.Soumik Nafis Sadeek 
Lecturer
M.Sc Cont'd (IUT), B.SC(IUT)
Room # 708 Ext # 800
E-mail : soumik.sadeek@iubat.edu
Soumik Nafis Sadeek, Lecturer, Faculty of Civil Engineering Department, IUBAT-International University of Business Agriculture and Technology, Dhaka, Bangladesh. He did his B.Sc. from Islamic University of Technology (IUT) in Department of Civil and Environmental Engineering and graduated in the year of 2015 and doing his M.Sc. (Transportation) in the same university.
After the graduation, he served as a Research Associate for the Research Projects of Department of Global Engineering, University of Toronto, Canada for one and half years. After that he joined IUT as a both research assistant and teaching assistant and worked for 2 years. He also worked under Department of Civil Engineering, Presidency University as a Lecturer for six months.
He has skills in using Computational Software (R, STATA, MATLAB), Microsoft office, design software such as AutoCAD and Civil 3D, Transportation Simulations and Modeling Software – CUBE, DYNASIM. He has 9 research papers in national and international journals and conference proceedings.